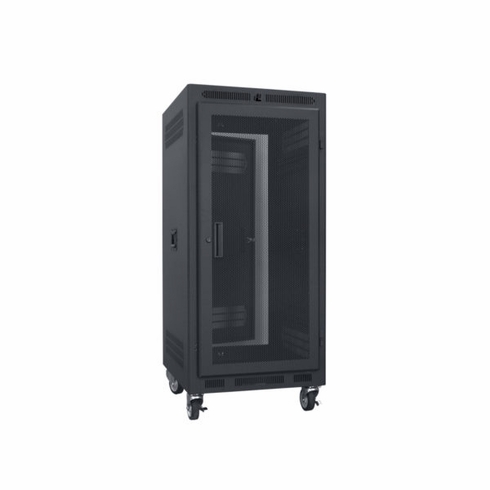 Product Description
LPR-2427FV: Portable Rack w/Full-vent door 24U x 27?D
Mobile security rack for educational, institutional or professional settings is 16-gauge steel construction with 14-gauge steel base reinforced at all load-bearing junctions. Fully-vented front door with key lock.
SPECIFICATIONS
Rack Space:  24U
Height (without casters):  48.125 in.
Width:  23.06 in.
Depth:  27.00 in. (24.34 usable)
---
FEATURES
Solid steel top
Solid steel base with 4 heavy duty swivel casters
Welded sides with top/bottom vents, recessed handles
Fully-vented steel front door with key lock
Steel rear door with top/bottom vents, key lock
One pair adjustable mounting rails tapped 10-32
Removable knockout panels in rear with combination knockouts
Load capacity 900 lbs.
Black wrinkle powder epoxy finish
---
COMPLIANCE & CERTIFICATION
EIA/TIA compliant
RoHS compliant
UL 2416 Listed
Certified U.S. steel
Made in Missouri, U.S.A.
---
A&E SPECIFICATIONS
The EIA/TIA compliant, UL 2416 Listed, 19" portable equipment rack shall be Lowell Model No. LPR-2427FV, which shall be constructed of 16-gauge U.S. steel with 14-gauge steel bottom, reinforced at all load-bearing junctures. It shall measure 48.125"H (without casters) x 27"D x 23.06"W and provide 24 rack units of panel space. It shall include one-pair swivel and one-pair swivel/locking casters which shall be field installed and increase rack height 5.13". Total load rating shall be 900 lbs. The rack frame shall have vents above and below the fully vented steel surface-mount front door, which shall have an integral handle and key lock. The rack shall feature vented side panels with recessed handles, vented recessed rear door with key lock and one-pair of adjustable mounting rails tapped 10-32. The rear shall feature removable knockout panels above and below the door with knockouts for BNC wireless antenna (0.5"), compound knockouts for conduit (.75–.50" and 1.5–1.0"), and a blank project panel. Finish shall be black wrinkle powder epoxy.