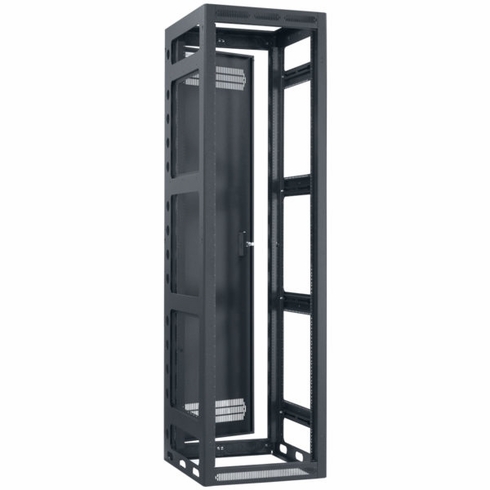 Product Description
LGR-4427: Gangable Rack 44U x 27?D
Gangable rack with adjustable rails is fully welded 16-gauge steel with 14-gauge base, reinforced at all load-bearing junctions.
SPECIFICATIONS
Rack Space:  44U
Height:  83.125 in.
Width:  23.06 in.
Depth:  27.00 in. (24.34 usable)
---
FEATURES
Configurable top has 7U opening for 19 in. panels (includes solid closure panels)
Open frame with multiple 2 in. holes on sides for cable runs between racks
Open front (optional door)
Rear door with top/bottom vents and key lock
Two-pair fully adjustable rails tapped 10-32 (printed RU scale)
Cable Management:  Multiple lacing points, holes, knockout panels
Pilot Point screws with captive washers
Grounding stud
Threaded inserts (for optional leg levelers)
Beveled corners
Black wrinkle powder epoxy finish
Load capacity 3150 lbs.
---
COMPLIANCE & CERTIFICATION
EIA/TIA compliant
UL 2416 Listed
RoHS compliant
Certified U.S. steel
Made in Missouri, U.S.A.
---
A&E SPECIFICATIONS
The EIA/TIA/RoHS compliant, gangable rack shall be Lowell Model No. LGR-4427. Overall measurements shall be 83.125"H x 27"D x 23.06"W with panel space of 44 rack units. Load capacity shall be 3150 lbs. The rack shall include a recessed rear door with vents and key lock; top with 7U opening and compound knockouts; open base with grounding stud; two pairs adjustable mounting rails with printed RU increments; knockout panels with combination knockouts above/below rear door; blank project panel below rear door; and provisions to mount an optional surface-mount front door (ordered separately). The rack shall be manufactured in the U.S.A. with certified U.S. steel and have a black wrinkle powder epoxy finish. It shall be listed to UL 2416.