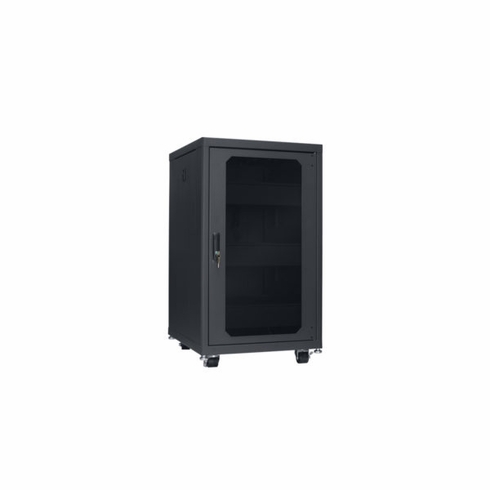 Product Description
LCDR-1824: Configured Design Rack
An elegant design made for the high-end decor of boardrooms and home theaters, this ready-to-use rack includes casters, leg levelers, three shelves, three blank panels, two fans, lockable side panels, a rear access cover, and a tempered glass front door. Charcoal Grey textured finish.
SPECIFICATIONS
• Rack Space:  18U
• Overall Height:  35.67 in. (38.43 in. with casters)
• Overall Width:  22.31 in.
• Overall Depth:  24.00 in.
---
FEATURES
• Solid top with vents and cable entry port
• Base with open center and cable entry ports
• Removable side access covers with key locks (opens from top)
• Rear access cover with key lock (opens from top)
• Smoked grey tempered glass front door with key lock
• Two-pair fully adjustable rails tapped 10-32 (printed RU scale)
• Pilot Point screws with captive washers
• Grounding stud
• Beveled corners
• Charcoal Grey textured powder epoxy finish
• Load capacity 500 lbs.
---
INSTALLED ACCESSORIES
• Swivel casters
• Leg levelers
• Vented shelves (3)
• Blank panels (3)
• Whisper fans in top vents (2)
---
COMPLIANCE & CERTIFICATION
• EIA/TIA compliant
• RoHS compliant
• Certified U.S. steel
• Made in Missouri, U.S.A.
---
A&E SPECIFICATIONS
The EIA/TIA compliant 19" equipment rack shall be Lowell Model No. LCDR-1824 which shall measure 22.31"W x 24.00"D x 38.43"H (with casters). The rack shall have 18U panel space and 500 lbs. load capacity. Construction shall be fully welded 16-gauge steel with 16-gauge top/base reinforced at load-bearing junctions and finished with a charcoal grey textured coating. It shall include a smoked grey tempered glass front door with key lock, recessed rear access cover with key lock, removable side panels with locks, two pairs of 11-gauge steel rails with mounting holes tapped 10-32 and rack unit increments printed on EIA spacing, steel top with 2 vents and a hole with grommet for cable access, three (2U x 18"D) shelves with vents, and three (2U) blank panels. The base shall feature a center opening, 2 holes with grommets for rear cable access, a grounding stud, 4 casters (2 locking) and 4 leg levelers.