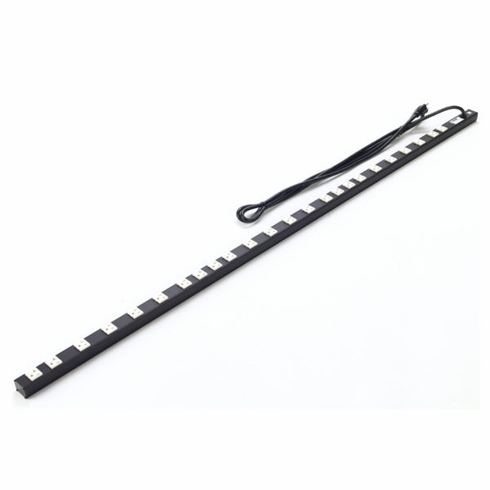 Product Description
AC power strip with 24 (15A/20A) NEMA outlets and surge suppression.
SPECIFICATIONS
• Amperage:  20A
• Outlets:  16 (15A) and 8 (20A) NEMA
• Power Rating:  120VAC, 20A
• Chassis:  Steel with black finish (70 in.)
• Termination:  12 ft. attached cord with 5-20P NEMA plug
• Surge Suppression:  Common mode transient voltage surge suppression (UL 1449-3 Listed) with LED indicator and 15A circuit breaker. Max surge current 6500A. Max surge voltage 6000V.
• Mounting Aids:  Mounting clip, screw, cable ties
---
COMPLIANCE & CERTIFICATION
• EIA/TIA Compliant
• RoHS Compliant
• UL Listed, U.S./Canada
• Imported
---
A&E SPECIFICATIONS
The UL Listed power strip shall be Lowell Model ACS-2024. Power rating shall be 120VAC 20A with circuit breaker protection and an LED indicator that is lit when protection is active. The power strip shall have a suppressed voltage rating of 400V with maximum surge at 6000V and 6500 Amperes maximum peak current. Power strip shall include 24 outlets. It shall be terminated with a 12 ft. cord and molded plug. It shall install to adjustable or fixed rail racks with a mounting clip and screw.